thank·ful
adjective
\

ˈ

thaŋk-fəl\
: glad that something has happened or not happened, that something or someone exists, etc.
: of, relating to, or expressing thanks
Source
Welcome back for this week's Thankful Thursday post!
We are currently winding up Moira's second week back to school. If you remember from last week, I talked about her switching from a traditional brick and mortar school to an online virtual public school. These past two weeks have been packed.
Last week
, I reflected on some of the things I am thankful for which had to do with this new learning environment.
This week, I really have to expand on that. Not that there's nothing else to be thankful for, but it seems like school is just about all we've done in the last week. The weeks are very busy. I'm not sure if it's typical, but Moira's spending 6-8 hours a day doing school work. Think about it. How much time would a child spend in a regular school doing actual hands-on learning? She's not being slow with her lessons. It is just taking that long. There is that much work.
Don't get me wrong, I am not complaining. One of my issues with her school last year was that she did not seem to be challenged. She never had homework and it seemed like she was just breezing through the work. She was in the gifted and talented track, so she should have been challenged. Can I just say that you should be careful what you wish for! This online school has more than addressed that issue.
I am grateful this week for what seems to be an exceptionally full curriculum which is providing a more challenging learning environment for my daughter. She is learning so much these last couple of weeks. She is loving the platform on which she is learning. She is enjoying the content. She loves the live lessons where she gets to interact with other students in her classes. Her teachers are wonderful so far. We haven't "met" them all yet, but we're working on it!
I am thankful for an excellent start to this new school year. It's a whole new frontier for us. It's got a learning curve, but we're getting the hang of it. As her learning coach (not teacher, but rather encourager, supporter, cheerleader, and question answerer), there's a learning curve for me as well. It's very different. I am thankful for the facebook group which I joined which is for people in our state who are choosing this as their school for their student. There are seasoned learning coaches as well as newbies like me. I am getting so much support and encouragement from these ladies. I've even been able to answer a question or two myself for someone needing help! I am grateful for this support. It would make everything so much more difficult if this group didn't exist!
Here's to a wonderful school year ahead!
What are you thankful for this week?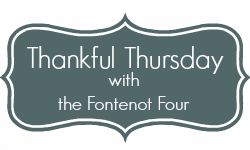 {Please note that any spam or inappropriate link ups will be removed!}