thank·ful
adjective
\

ˈ

thaŋk-fəl\
: glad that something has happened or not happened, that something or someone exists, etc.
: of, relating to, or expressing thanks
Source
Welcome back for this week's Thankful Thursday post!
I am easing back into this blogging thing having written a few posts last week and none so far this week! Baby steps, right?
This week has been quite busy and by the time bedtime rolled around last night, I realized I didn't even have time to think about a Thankful Thursday post much less write one!
This week I am thankful for the thing that has kept me so busy.
School.
While many people are sending off their little (and not so little) children to school, a great many are choosing to homeschool. After much discussion at the end of last school year, we decided that we needed to change what we are doing for our daughter's education. There wasn't anything necessarily
wrong
with the educational side of her schooling, but there were many aspects of that particular school which left us feeling like it just wasn't a good fit for our family. We looked at traditional homeschool for a while but, quite honestly, it scares me. There's also a significant financial investment in homeschool curriculum and materials that would be needed to facilitate homeschool.
One of my biggest fears about homeschool is one that may not even be a legitimate fear, but I suspect I'm not alone in having it. I fear the big transition from homeschool graduation to college. Or from homeschool back into regular mainstream public school for that matter. Moira has also been in Gifted & Talented for the past several years as well as being involved in Duke TIP. My biggest fears were her not being able to get the level of education she needs to excel and succeed.
I will reiterate that these are my
fears
and they may not have a basis in actual fact. I don't know. I did not go to university to learn how to become an educator or an administrator, so I fear that I would not make the wisest decisions to ensure the best possible outcome for my child.
I stumbled upon the world of virtual online school. In this day and age, it is not surprising that this is now an option for children to start as early as Kindergarten. There are some excellent online schools out there, just as there are many excellent traditional homeschool curricula. Again, the online schools come with a hefty price tag. I'm not opposed to paying for a quality education, but for us the timing for this added cost isn't the best. We're trying to save for a house and, being realistic, having an additional bill doesn't help facilitate that!
Then I learned about
Connections Academy
. This is an online virtual public charter school. It is available in several states (not all) and it falls under whatever school guidelines are set in place by whatever state you are located in. It is public school, so it is
free
. Well, tax money aside! The curriculum is state regulated, so there is no worry that students won't meet qualifications for college based on curriculum. It's a public school, so it has teachers. The onus is not on the parent or home educator (whoever it may be) to personally teach every single subject which they may or many not themselves be qualified to teach. It is public school. But it's done at home. It is
not
homeschool, but it is school that is done at home - or wherever the student happens to be.
After gathering information, we decided that Connections Academy was the best fit for us at this time in our lives. It solved a great many needs for our family without putting additional stress on me (as the "learning coach" as I am called) to be responsible for teaching - and teaching the right things.
This week, I am thankful for this version of "homeschool" - even though it's not technically homeschool. Here are some observations from this, the first week:
We can get up as early as we want and start the day when Moira's ready (which has been around 7:00am each day);
We can work at Moira's pace - if it takes her 15 minutes to finish a lesson or 3 hours, it's at the pace that she can manage;
I can sit alongside Moira all day and watch her learn. She has online lessons and she has "live lessons" where the students are actually in a live presentation listening to the teacher speak while they ask questions in the chat pod on the side. I am right beside her, so when she's having a difficult time on a question, she can turn immediately to me and ask;
It offers flexibility. Yes, there are "set" live lesson times throughout the week, but some are recorded so those could be viewed at a more convenient time. Moira had a dentist appointment the other day. We did most of her work beforehand and then picked up the rest when we returned. No school absence, no doctor's note needed, and no missed work! Similarly, she has to go back today for two extractions. Her days have been on the long side so far, but yesterday was lighter. This was very helpful because it allowed her to work ahead and get most of today's classes finished so she wouldn't have to worry about not completing work because she wasn't feeling well after getting a couple teeth pulled;
Moira is enrolled in Gifted & Talented classes in addition to her regular 6th grade classes;
I can sit with her and spend quality time with her. It's been wonderful to have this time, especially when we can sit and laugh with each other over silly things;
No car-rider lines!!!
There are so many reasons we are loving Connections so far. Our first week has been a huge success so far. As of right now, I can safely say that we made the best decision for our family!
What are you thankful for this week?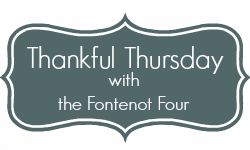 {Please note that any spam or inappropriate link ups will be removed!}