thank·ful
adjective
\

ˈ

thaŋk-fəl\
: glad that something has happened or not happened, that something or someone exists, etc.
: of, relating to, or expressing thanks
Source
Welcome!
It's been quite a while since I blogged. After the loss of my daughter
Peyton
in May of 2013, I fell out of writing regularly. Honestly, I just wasn't feeling very inspired to write. I felt a great many things over the past couple years, but "like a writer" wasn't among those feelings.
I have missed the blogging community. As seasons of life change, so do the things we involve ourselves in, and this community is one which has taken a back seat to the more pressing needs of myself and my family. After beginning the year with prayer, I was given the words "Be Still" as my theme. I have tried to honor that in many ways. It has been important for me to try to still myself so that I could hear God's voice. I have been praying for my purpose; my "next". I am still not entirely sure what that looks like, but I have felt like I am finally starting to be able to hear God speaking to me. That's been a hard area for me.
In this blogging life, I have written 143 past Thankful Thursday posts. The last one was written just over a year ago. While I've continued to give thanks, I haven't written down those things for which I am grateful. I'd like to begin again. I have found in my life that perspective can change for the better if you just stop and give thanks for the blessings in your life. It truly changed my life. Gratitude can be a game changer. It can be a life saver.
While I haven't been connecting online through this blog over the past year sharing these blessings, I have had a number of significant things change in my life. I'll focus on one are for now.
My health.
When I wrote my last Thankful Thursday post, I was just short of a year after having torn a tendon in my ankle, which led to surgery - but not before I experienced a massive life-threatening pulmonary embolism. Depression coupled with lack of mobility brought me to the heaviest weight I had ever been in my life, outside of being pregnant with severe pre-eclampsia which had caused massive weight gain. The day I stepped on the scale and saw
that
weight was the day I was decided that enough was enough and something needed to change.
Last August 17th, I got on
MyFitnessPal
. A pastor at our church, who is also a trainer, hooked up with Ron and I on the app so that we could be accountability partners. Can I just say that trying to manage new health and fitness goals is so much easier when you have people you can be accountable to? We began tracking everything we were eating - good and bad. Ron had been working out with this trainer for several months already, but he was needing a jump start to get back in gear. I was invited to join in on these intense workouts. Think CrossFit.
Since last August, I have grown to absolutely love working out. Yes. Me. I
never
in my life would have dreamed that those words would escape my lips. That said, over the last year, I've been working out two or three times a week with this trainer. We did that regularly til early July. In May, Ron and I did a month long
#IronTribe 101 at our local IronTribe gym.
in addition to our regular two or three times a week with the trainer. Time, finances, and life have us pared down to doing
#DailyBurn
workouts at home. Today marks 4 weeks since I began my free trial. In those 28 days, I have done 36 workouts through DailyBurn. This is a fantastic program. The workout program I chose out of the many options available was a program most similar to the workouts I'd been doing with a trainer. I wanted to keep up the intensity and level of difficulty that I'd been doing. If you are familiar with DailyBurn, I'm doing #BlackFire with Bob Harper. That program is no joke!!
As far as nutrition goes, I have had a really difficult time for pretty much most of 2015. At one point, I had lost a total of 40 lbs! However, once this summer hit, it became more difficult to keep up with the diet end of things. That said, I am still down 35 lbs from the weight I was in August 2014. I don't consider 5 lbs over my lowest weight to be too tragic. That said, I need to get back on track. I read Bob Harper's "Skinny Rules" and found that it really was helpful. I need to get back on that.
As for fitness, I am currently working out 7 days a week with a couple extra workouts thrown here here and there just to keep it interesting. It is hard. It is challenging. This whole journey has pushed me far and beyond what I thought was possible. I can do things I have never done before. Box jumps? No problem. But they scared the life out of me a year ago. Burpees? Bring it! But I still hate them. I
really
hate burpees. Weights? Yes. I learned how to deadlift. I pushed myself past my limits. I pushed through pain. I persevered through horrific workouts. I have survived. I have gotten stronger. I am in the best physical shape of my life at age 42.
Don't forget. All of this happened
after
a torn tendon in my ankle which required surgery, physical therapy, and much work to get to a point where I could even start exercising safely (I started 8 months after surgery). This happened 10 months
after
life-threatening blood clots in both lungs. I had been released from my Pulmonary doctor's care just prior to starting my workouts. His parting words to me - "Go out there. Be active." I did not leave his office and run to the nearest gym, but little did we know how active I'd become!
If I can do this, there's a good chance you can too!
Health and fitness. That is what I am thankful for right now.
What are you thankful for this week?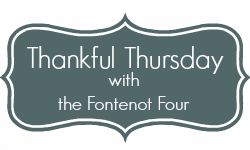 {Please note that any spam or inappropriate link ups will be removed!}