thank·ful
adjective
\

ˈ

thaŋk-fəl\
: glad that something has happened or not happened, that something or someone exists, etc.
: of, relating to, or expressing thanks
Source
Welcome to this week's edition of Thankful Thursday!
I am grateful for finishing this week on a good note. We had our First Wednesday service at church last night and it was, as usual, amazing. It's the best service of the month and one I look so forward to attending. If you aren't a part of our
church
, First Wednesday is a once a month service on - wait for it - the
first
Wednesday of each month. It's an extended time of worship with a message in there as well. One of our former pastors was visiting and preached last night. His family had left last summer to plant a church out in
Colorado
. His wife had been one of Peyton's nurses in the PICU step-down unit where she spent her last 40 days. He, himself, came and prayed with our family at the visitation at the funeral home when Peyton passed away. He gave an excellent message and it was really great to see how much he's grown as a pastor in the last year. If you are someone who was there, don't you think he's grown? You can definitely tell that God is at work through him!
This past week has been quite challenging. Each and every day for the past week, I have faced some sort of "trigger" moment where my grief over Peyton resurfaced in a big way. Her first anniversary since her passing was in May, so that wasn't it. Her birthday fell in May, so that wasn't it either. In fact, there really wasn't any significance to the time frame at all. However, every single day something happened that really reminded me of our loss. A funeral at church (I work in the church cafe and to be honest, I have never been in the church when a funeral was going on - except for Peyton's). Same venue. Same funeral home handling the service. Some of the same undertakers even! That was probably one of the biggest triggers, but you get the idea. The church building has music playing over the speakers during the day. I love listening to the music, but honestly when work is busy, I don't notice it as much. A couple days ago, I was in a zone where I wasn't particularly noticing the music until I heard Kari Jobe singing "
Healer
". When Peyton was in the hospital, towards the end I had a continuous loop of music going. "Healer" was the second to last song that played before she passed away. If you listen to the words, it was perfect since in her passing, Peyton
was
healed. The song played as she slipped away from us and into the Father's arms.
Every day. That is the type of week it was. When I heard that song, I thought to myself, ok God,
what
are you trying to tell me?? I felt it was a message of some sort. These reminders are all at once good yet painful at the same time. I don't want to
not
remember these things but for whatever reason, I was bombarded by reminders.
A few weeks ago, I found myself "accidentally" coming off anti-depressant medication. After many months of being
on
it, I had wanted to try to wean off of it. I hate being on medication that maybe I don't need to be on. I don't want all that stuff in my system if I don't truly need it. I say "accidentally" though. Did you know you're supposed to wean off this type of medication? Did you know that "wean" doesn't mean "cold turkey"? And did you know that if you accidentally quit cold turkey - meaning, you forget to call in your prescription and then you realize you've already been off a few days and decide it's probably not worth taking it at all (because you're really
not
a doctor and don't know that that's not smart) - there is a withdrawal period??
Who knew?!?!
So I found myself in the couple weeks prior to this past week with vertigo, restlessness, a low grade fever, and symptoms of depression that cause me to wonder if I should just go back on the meds and get the refill! I even went to the doctor. Neurological testing showed I didn't have a stroke or anything like that - I didn't know that was even something I should have considered! The doctor wasn't sure so advised me to pay close attention to the symptoms and come back if it didn't improve. I wound up back there anyway for an abscess that needed drained (I told you...it was not the best week this past week!!), but prior to
that
visit, I surfed the information highway only to find out that, hey, maybe all these symptoms (there were 7 or 8 independent symptoms) fit together under
one
"diagnosis".
Withdrawal.
Again. Who knew?!?!
Depression is very real, people, and I'm not a doctor and I won't say anything other than that you should seek help if you are suffering from depression in some way. It's also really dumb, in hindsight, not to refill a prescription and discuss weaning off these types of meds under a doctor's care. After about two weeks or so now, I think I am finally through that "withdrawal" phase. Now, I will not compare this type of withdrawal to something an addict would go through - it's not
that
type of withdrawal (I have not experienced that firsthand and have no idea what that must be like). I just felt "off". Really "off". I discussed it with the doctor I saw for the abscess and it clicked that, yes, this was what was happening and that I should be over the worst of it soon. I think I'm mostly over it now.
So...long story short (too late!) - I am
beyond
thankful that this is behind me. As I come out the other side of this withdrawal period, I think that it's going to be ok. For me, right now, I think being on meds isn't a long-term thing I need to consider, although there'd be nothing wrong with it if that was the case. I'm thankful to have this out of my system and out of my daily regimen.
And I am thankful for a husband and for friends who get that what I'm going through isn't easy and stand by me through all my ups and downs. There are plenty of good - even great - days ahead. I look forward to each and every one!
What are you thankful for this week?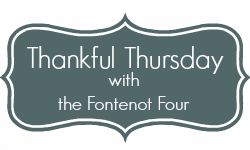 {Please note that any spam or inappropriate link ups will be removed!}