thank·ful
adjective
\

ˈ

thaŋk-fəl\
: glad that something has happened or not happened, that something or someone exists, etc.
: of, relating to, or expressing thanks
Source
Welcome to this week's edition of Thankful Thursday!
With summer vacation wrapping up in just a few weeks, I'm excited that the past several weeks have included much reading for all of us. Moira is 10 and I am sure would much rather not spend her days with her head stuck in a book. However, we've really tried to encourage her to keep on reading over the summer.
Moira's school library has a "South Carolina Book Awards" reading challenge each year. The school district publishes a list of books, with different lists for different age groups (about 20 books per list). The way it worked last year was that if they read 3 books by a certain date (a couple months or so into the school year), they got to attend an incentive party in the library. They also had to submit an online review, so it wasn't just simply reading the books. Every couple months, they'd up the challenge by 3 books and host a reward party, with little prizes distributed throughout the year at these parties. If you missed one goal, you could still attend the next party if you caught up. Moira missed the first, but was able to attend the rest of the incentive parties for the year.
The list of books for the 2014-2015 school year was published on the school website at the start of summer. I printed out the list and I had Moira begin reading some of the books. She's managed 5 in all, and is on her 6th now. I'm not sure if the process will be the same this coming school year (i.e. submitting a review as proof of completion), but I've had her write her reviews on paper so she remembers - just in case!
The local library also had a summer reading incentive called "Fizz Boom Read". For her age group, there were 3 prizes over the summer - at 5, 10 and 15 hours of logged reading time. She finished that challenge and received her prizes. The "big" prize was a t-shirt and medal. The library staff made a big deal of presenting her with the prize, so that was pretty cool.
Moira's t-shirt and medal received for completing the #FizzBoomRead summer reading program
Some new books we bought Moira as a reward for doing so well with her summer reading.
In other news...
I saw my Hematologist yesterday. This was a follow up appointment for the massive pulmonary embolism I had back in October 2013. I have a nasty history of having this happen - three times now. All life-threatening. One while
on
blood thinners! While I do have to remain on blood thinners, the doctor said he is pleased with how I'm doing right now and doesn't need to see me for a year! I'll take that!
What are you thankful for this week?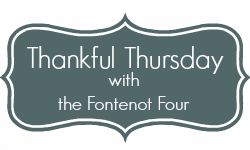 {Please note that any spam or inappropriate link ups will be removed!}