thank·ful
adjective
\

ˈ

thaŋk-fəl\
: glad that something has happened or not happened, that something or someone exists, etc.
: of, relating to, or expressing thanks
Source
Welcome to this week's edition of Thankful Thursday!
When I sit down to compose my Thankful Thursday post each week, I try to come up with a simple list of things I am grateful for in my life over the past week. I make a bullet point list and share that with you. I am a big believer in the fact that we should express our gratitude for even the simple little things in life and that being grateful is a choice we make which can have a huge and lasting impact on our lives.
Last week was an amazing week of VBS for my 10 year old daughter. She is involved each week in the children's ministry worship team. This means that she and other kids get to get up in front of their peers each weekend and sing (along with recorded music) and do actions to the worship music. They needed volunteers to do this during VBS week, so Moira got involved in that.
We had a special worship set last weekend (the weekend after VBS concluded) in "Big Church", as the kids like to call the worship service we adults attend. The kids worship team was asked to worship in "Big Church" along with our worship team on stage during our worship services. Moira participated in our Saturday night service as well as our three Sunday morning services. They sang two of the songs that were used during VBS. Maybe to some the songs might seem a little "juvenile" for a grown up service, but for many, it was truly a heartwarming experience to watch all these kids worshiping up there in front of hundreds of grown ups. The kids service, as I said, has recorded music. VBS and "Big Church" have a full band with live music. It was pretty cool.
Once again, I am thankful for a church that does so much to pour into the lives of the next generation...and the one following that one. As I close this post, I'm praying for all the bigger kids (middle and high school) who are at our church's summer camp this week. There are about 530 kids involved in that. I was working in the cafe at church on Monday when they all gathered to check in and then depart on buses to head out of town to camp. What a blessing it is for these kids to be able to be a part of that camp. I was a little misty-eyed, I must admit, as Moira will be old enough for camp next year. She is excited about that.
What are you thankful for this week?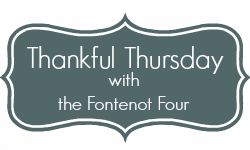 {Please note that any spam or inappropriate link ups will be removed!}