thank·ful
adjective
\

ˈ

thaŋk-fəl\
: glad that something has happened or not happened, that something or someone exists, etc.
: of, relating to, or expressing thanks
Source
Welcome to this week's edition of Thankful Thursday!
When I sit down to compose my Thankful Thursday post each week, I try to come up with a simple list of things I am grateful for in my life over the past week. I make a bullet point list and share that with you. I am a big believer in the fact that we should express our gratitude for even the simple little things in life and that being grateful is a choice we make which can have a huge and lasting impact on our lives.
This week has been a full week for Moira. She has been participating in Vacation Bible School at church. Actually, today is the last day. There are over 800 children participating! I work in the cafe at our church, and worked Monday and am working today. It is incredible to see so many children involved in this!
I am so thankful for our church. The leaders in our church are passionate about building up the next generation. And the next. These children are our future church leaders. I am so grateful to all of the people who have been pouring into them this week. I know where Moira stands with her relationship with Christ. I don't know where everyone else stands. I can only imagine that there are many, many children who are there simply because a friend was going. I am sure many of these children are new to any type of church experience. It's just so amazing to see all these kids doing church together!
I am grateful for the many, many people who had a hand in making VBS possible. I know they've been planning it since VBS ended last year! There are so many incredibly gifted leaders in our children's ministry who put together a "Superhero" themed VBS. I am grateful these people are using their giftings to pour into my child's life, as well as into the lives of hundreds of other kids.
You know that a VBS of this magnitude couldn't be pulled off without countless staff and volunteers, so my thanks goes out to every single person who helped to make this year's VBS such an amazing experience.
Moira's at the upper end of the age range for VBS. This means that this is her last year for participating in VBS. Next year she will be old enough for the middle/high school student summer camp. Next year she will be able to volunteer with VBS. She's growing up! I'm thankful for the new opportunities that await for her in the years ahead.
What are you thankful for this week?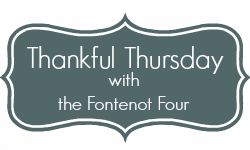 {Please note that any spam or inappropriate link ups will be removed!}