thank·ful
adjective
\

ˈ

thaŋk-fəl\
: glad that something has happened or not happened, that something or someone exists, etc.
: of, relating to, or expressing thanks
Source
Welcome to this week's edition of Thankful Thursday!
When I sit down to compose my Thankful Thursday post each week, I try to come up with a simple list of things I am grateful for in my life over the past week. I make a bullet point list and share that with you. I am a big believer in the fact that we should express our gratitude for even the simple little things in life and that being grateful is a choice we make which can have a huge and lasting impact on our lives.
Right after sharing my Thankful Thursday post
last week
, I wound up in an even worse funk for a day or so. Not fun at all! There's nothing like trying your hardest to feel positive one day - even when you have to stretch to make that happen - only to feel anything but the next.
I can't say I know exactly what happened that particular day, but I do know this. I'm not a real "crunchy granola" mom. However, I was introduced to essential oils earlier in the year and have a handful which I began using regularly. I probably lean more to the skeptical side where things like this are concerned, but I can assure you that they were
helping
me! That said, I had fallen out of using them regularly. It was enough of a difference for my husband to question whether I had been using them or not. With that, I got back into the habit and I can tell you that I feel
so much better
. It is unbelievable. Except it
is
believable because I feel like a new person.
So, this week I am thankful for essential oils. I am thankful for how much better I feel when I use them regularly. I am thankful to be over the funk hump and feel much more like "me".
I am also thankful for my precious 10 year old daughter. She decided several months ago that she would like to donate her hair. Of course, at the time, it wasn't long enough and her hair has a wave to it, making it seem to take forever to grow longer. She was desperately in need of a haircut whether there was enough to donate or not. I love her long hair. It's cool "beachy" hair. But she's 10 and needs to learn how to take care of it better. It tangles so easily and is a nightmare to comb out sometimes. As I was also in desperate need of a major cut, I contacted my hair stylist and set us up for appointments yesterday.
I am thankful to Jeanette at
Splash Urban Hair Loft
who was able to cut 10 inches off Moira's hair for donation as well as give her a fantastic "grown up" do. She also gave me a new style while chopping off quite a bit of hair and thinning it out. My hair grows like crazy. It gets thick and heavy and frumpy pretty quickly. I am thankful for a fresh new look!
What are you thankful for this week?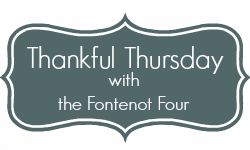 {Please note that any spam or inappropriate link ups will be removed!}