thank·ful
adjective
\

ˈ

thaŋk-fəl\
: glad that something has happened or not happened, that something or someone exists, etc.
: of, relating to, or expressing thanks
Source
Welcome to this edition of Thankful Thursday! Whether you're here for the first time or have been visiting each week for a while, I am so glad you have taken the time to visit.
I am thankful for many things this week including:
* Another successful school year for Moira. We're not quite through yet. The last day is actually on Monday - and a half day at that. She made A/B Honor Roll. She received a certificate for this at the 4th grade awards ceremony yesterday. She also received a ribbon for her participation in the
Duke TIP
program. I am very proud of her for a job well done!
What are you thankful for this week?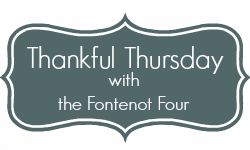 {Please note that any spam or inappropriate link ups will be removed!}