thank·ful
adjective
\

ˈ

thaŋk-fəl\
: glad that something has happened or not happened, that something or someone exists, etc.
: of, relating to, or expressing thanks
Source
Welcome to this edition of Thankful Thursday! Whether you're here for the first time or have been visiting each week for a while, I am so glad you have taken the time to visit.
I am thankful for many things this week:
* Being able to just
breathe
. The first couple weeks of May were
rough
. Peyton's heaven date. Peyton's birthday. Lots and lots of very difficult memories. I feel like once her birthday passed on the 15th, I was able to relax a bit and just remember to breathe.
* Celebrating Ron's birthday on the 17th. It's not easy having his birthday follow right on the heels of everything else, but I felt like it was the start of better days to come after all we'd been through the past few weeks. We went out to dinner as a family. We enjoyed our time together. I caught this picture of Moira making a pinky promise to her Daddy that she would never forget him. So sweet. I took this picture to remind her when she's in her teen years and can't stand being around her parents!!
* Moira. She will be finishing up 4th grade in less than two weeks. She's had so many projects this year. It has been the heaviest year so far in terms of projects. You might think that sounds odd since she's in 4th grade. The kid has been doing powerpoint presentations since 1st grade! She has a couple projects left before she finishes up, but by the looks of her grades that I can view online, she is finishing strong. She's such a great kid. She's sweet and funny. She is compassionate and kind. She hangs out with us at church a lot. In addition to attending church, Ron and I volunteer with church online and I work part time at the church. We spend a lot of time there. She serves in a couple areas at church, which is great, but she also has some "down time" where she's just chilling out, waiting on us. She loves hanging out in the bookstore in our church. She's usually armed with her kindle. Actually, it's mine, not hers! She'll go into the bookstore and hang out on the beanbag chair in the children's section. She is usually so quiet that we start wondering where she is, until we see something like this:
* Reading. You know, my love for reading comes in waves. I really do love reading, but it tends to go in spurts. When I'm "on", I'm "on". When I'm not, I'll go for ages without reading a thing. Right now, I'm on my game. You can find me on Goodreads
HERE
. I had set a reading goal of 20 books this year. I've just finished my 11th book. I've read four books in the last couple weeks alone. I find myself reading through these books pretty quickly right now, but I fear I'm about to slow down again. I actually reacquainted myself with my local library a few weeks ago when we needed to find a book for one of Moira's projects. I don't know why we don't use it more often. I'm there quite often now though! What are you reading right now? I'd love to hear!
* Silliness. The other day, we were stuck in traffic. I had picked Ron up at work so we could run a couple of errands. The shopping plaza we went to is 10-15 minutes away, depending on traffic. On this particular day, there was apparently a wreck somewhere way up ahead and it was causing the traffic on the freeway to come to a complete standstill. At one point, about 40 minutes in, we plugged my iPhone in to the car so we could listen to my Spotify through the car speakers. Ron and I have set up a "Cruising 2014" playlist which is a collection of the many songs we heard while we were on our cruise. Moira enjoys some of the songs too. Ron cued up a song for us to listen to. Moira and I assumed it would be one of a couple different songs. We were wrong. Instead, it was the theme song to the "Love Boat", which Moira had never heard before. We hadn't heard this on our cruise, but added it just for fun. So, Ron and I belted out the tune while Moira gasped in horror. I'm not sure if her expression is a reaction to the song itself or to us singing. Either way, it was pretty funny.
What are you thankful for this week?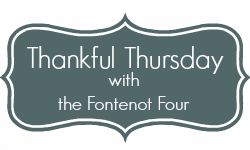 {Please note that any spam or inappropriate link ups will be removed!}