thank·ful
adjective
\

ˈ

thaŋk-fəl\
: glad that something has happened or not happened, that something or someone exists, etc.
: of, relating to, or expressing thanks
Source
Welcome to this edition of Thankful Thursday! Whether you're here for the first time or have been visiting each week for a while, I am so glad you have taken the time to visit.
I am thankful for many things this week:
* Peyton. She would have been
eight years old
today.
* Strength. This has simply been one of the toughest months since Peyton passed away
a year ago
. It still boggles my mind that it's been a year. I am not getting through this time on my own, I'll say that. I cannot imagine walking this journey without the strength of the Lord. I am so grateful to have Him in my life.
* My husband. We're walking this path together. It's not easy and it isn't without stress, but we are doing it. Together.
* Time. I know that with the passage of time, the
difficult days
are fewer - though not gone altogether. I know that God is using this time to allow for healing to take place in our lives. I am grateful for all that has occurred already and thankful that He continues to be at work in this process.
What are you thankful for this week?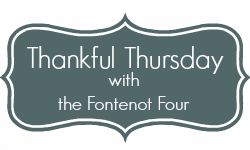 {Please note that any spam or inappropriate link ups will be removed!}