thank·ful
adjective
\

ˈ

thaŋk-fəl\
: glad that something has happened or not happened, that something or someone exists, etc.
: of, relating to, or expressing thanks
Source
Welcome to this edition of Thankful Thursday! Whether you're here for the first time or have been visiting each week for a while, I am so glad you have taken the time to visit.
The last couple weeks have been quite emotional for me. The
first anniversary
of Peyton's passing was on May 4th. It was so difficult remembering where we were exactly one year ago at each moment of the days leading up to her anniversary. Saturday night was particularly difficult, but we made it through.
I am thankful for many things this week:
* Peyton's sweet little life. Her smiles. The good memories we had with her.
* For family and friends who came around us this week to lend support and share in the remembrance of our sweet girl.
* For great friends pitching in to help us out this past week. Last Thursday, our brakes failed in our one and only vehicle. Unfortunately, public transportation isn't an option around us, so we're pretty dependent on having a working car. We had less than one hour between the brakes failing and me needing to figure out how I was supposed to pick up Moira and her friend at school - without sending in someone they weren't expecting and creating confusion. So thankful to our friend who came to get me and then took me to get the kids, especially when he had to leave work to do this. Thankful to the friends who picked up and dropped off and helped us out in many ways. We got our car back yesterday. So thankful for that!
What are you thankful for this week?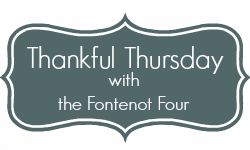 {Please note that any spam or inappropriate link ups will be removed!}