thank·ful
adjective
\

ˈ

thaŋk-fəl\
: glad that something has happened or not happened, that something or someone exists, etc.
: of, relating to, or expressing thanks
Source
Welcome to Thankful Thursday! Each Thursday, I host a "Thankful Thursday" link up so that we can share with each other the things in our lives that we are grateful for right now. I have found that there are
always
things to be thankful for - even in the most difficult of life's seasons. It goes beyond that. Developing an attitude of thanksgiving can change your outlook on life. Even if you don't have a post to link up, I'd love to encourage you to just stop where you are and think of three things that you are thankful for. Do that each day. It's amazing how much we have to be thankful for even when it doesn't feel like there is anything!
I am happy to be hosting this edition of "Thankful Thursday" from afar. If you're a regular here or follow me on facebook, you know that right now we are on our cruise! I've set this post up in advance so you all could enjoy each other's posts while I am gone!
This week I am thankful for:
* You! Thank you for visiting here, whether you've been coming back weekly for this link up or this is your first time here. I am so happy you're here!
* Time away. While Moira's at home with other friends and family, Ron and I are at sea. Today we're in Belize! I know we are both thankful for the opportunity to get away together this week to reconnect, re-energize, and talk about our goals, all while relaxing and disconnecting from technology.
What are you thankful for this week?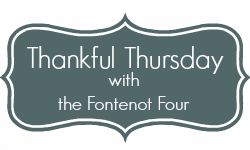 {Please note that any spam or inappropriate link ups will be removed!}