thank·ful
adjective
\

ˈ

thaŋk-fəl\
: glad that something has happened or not happened, that something or someone exists, etc.
: of, relating to, or expressing thanks
Source
Welcome to Thankful Thursday! Each Thursday, I host a "Thankful Thursday" link up so that we can share with each other the things in our lives that we are grateful for right now. I am in my third year of hosting this link up. I have felt strongly for a long time that it is important to stop and take a moment to recount the things in our lives for which we are thankful. When life is full of challenges, it is often hard to think of anything that could possibly be worthy of giving thanks. I felt that way for a long time. However, once I got into the weekly habit of doing this, I found that there are
always
things to be thankful for - even if the most difficult of life's seasons. It goes beyond that. Developing an attitude of thanksgiving can change your outlook on life. Even if you don't have a post to link up, I'd love to encourage you to just stop where you are and think of three things that you are thankful for. Do that each day. It's amazing how much we have to be thankful for even when it doesn't feel like there is anything!
This week I am thankful for:
* Keeping busy. I started a part time job last week. It's kept me a lot busier than I've been used to lately. I'm enjoying it, but the pace of life is quite different now. I'm trying to manage all the "home" things on top of a busy training schedule at work. I'm pretty worn out at the end of each day, but it's a "good" tired.
* Coffee. Not just because making delightful coffee beverages is a huge part of my new job, but because it's helping to sustain me with this crazy busy schedule! It's all good!
* Continued improvement of my ankle. It's been a long haul, but each passing week, things are a little better. I've been on my feet so much these past couple weeks as I am mostly standing at work. I think I'm building up endurance though. This week is not as bad as last.
* Ice. I have a huge ice pack I purchased from my therapist's office. I absolutely love it. It goes right on my foot when I get home from work and then at the end of the day. It makes everything better and allows to me start fresh again each morning.
What are you thankful for this week?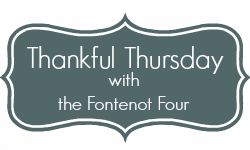 {Please note that any spam or inappropriate link ups will be removed!}