Welcome to Thankful Thursday! Each Thursday, I host a "Thankful Thursday" link up so that we can share with each other the things in our lives that we are grateful for right now. I am in my third year of hosting this link up. I have felt strongly for a long time that it is important to stop and take a moment to recount the things in our lives for which we are thankful. When life is full of challenges, it is often hard to think of anything that could possibly be worthy of giving thanks. I felt that way for a long time. However, once I got into the weekly habit of doing this, I found that there are
always
things to be thankful for - even if the most difficult of life's seasons. It goes beyond that. Developing an attitude of thanksgiving can change your outlook on life. Even if you don't have a post to link up, I'd love to encourage you to just stop where you are and think of three things that you are thankful for. Do that each day. It's amazing how much we have to be thankful for even when it doesn't feel like there is anything!
This week I am thankful for:
* Like last week, I am thankful for continued good health. I think I spoke too early when I was thankful for that last time. I was feeling ok Thursday and Friday, but on Saturday I woke up with a really sore throat again. Back to the doctor I went. I got more antibiotics and some other meds. I am also grateful for health insurance and an HSA account.
* Improvements in the world of PT and ankle injury and surgery recovery! It has been a little over 3 months since my surgery and about 7.5 months since the injury. I have been good about doing my exercises at home...most of the time. I am still in pain, but not nearly as much as even a month or two ago. I am also finding that the pace of improvement is picking up in the last week or two, which is awesome. I took this picture just a couple days ago. I am pointing my toes has hard as I can. Nothing wrong with the left foot. The right foot, which I am straining really hard to make it point, is the
most flexibility
I have had in this foot in well over 7 months. It doesn't look like much, but this is a
huge
improvement for me! Now if I could just get the side to side motion going. That's not happening too much yet.
* A new opportunity. More later!
What are you thankful for this week?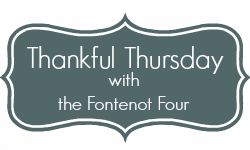 {Please note that any spam or inappropriate link ups will be removed!}