Welcome to Thankful Thursday! Each Thursday, I host a "Thankful Thursday" link up so that we can share with each other the things in our lives that we are grateful for right now. I am in my third year of hosting this link up. I have felt strongly for a long time that it is important to stop and take a moment to recount the things in our lives for which we are thankful. When life is full of challenges, it is often hard to think of anything that could possibly be worthy of giving thanks. I felt that way for a long time. However, once I got into the weekly habit of doing this, I found that there are
always
things to be thankful for - even if the most difficult of life's seasons. It goes beyond that. Developing an attitude of thanksgiving can change your outlook on life. Even if you don't have a post to link up, I'd love to encourage you to just stop where you are and think of three things that you are thankful for. Do that each day. It's amazing how much we have to be thankful for even when it doesn't feel like there is anything!
This week I am thankful for:
* The opportunity to share Peyton's story. I was invited to share on Matt Ham's blog what it has meant for us to choose gratitude. I am grateful for the opportunity to share a bit of her story with his readers. I was honored with some beautiful comments on the post as well. I would love for you to go over to his site and read
this story
and share if you like!
* Answers. Nearly 8 years since Peyton was born in May of 2006 - and 10 months since she passed in May of 2013 - we finally have a diagnosis. Peyton was part of a research study which sought to find out the genetic cause for whatever was going on with her. Throughout her life, she had been tested for everything under the sun - and then some. In August 2012, we made a trip to Boston Children's Hospital where we would see several specialists, including a geneticist. She became, essentially, her own research study up there. Her case has continued even in the nearly one year since she passed away. We were just contacted this week and we were told that they were finally able to confirm what was wrong. As it is all part of research, there are now "official" tests and reports to be done, but please read
this story
I posted on her blog. It is complicated, but we have answers. Nothing in Peyton's life was "uncomplicated", so it would only make sense that, in death, we would find complicated answers. There are answers. There is some sense of closure and peace. If you've tracked Peyton's life and death, you will definitely want to read
this
.
* It's been a pretty "eventful" week on the Peyton front. There is, of course, much to be grateful for in the day to day, but these are my highlights. I would say it's a pretty good list, if short!
What are you thankful for this week?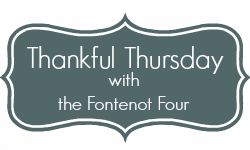 {Please note that any spam or inappropriate link ups will be removed!}