Welcome to Thankful Thursday! Each Thursday, I host a "Thankful Thursday" link up so that we can share with each other the things in our lives that we are grateful for right now. I am in my third year of hosting this link up. I have felt strongly for a long time that it is important to stop and take a moment to recount the things in our lives for which we are thankful. When life is full of challenges, it is often hard to think of anything that could possibly be worthy of giving thanks. I felt that way for a long time. However, once I got into the weekly habit of doing this, I found that there are
always
things to be thankful for - even if the most difficult of life's seasons. It goes beyond that. Developing an attitude of thanksgiving can change your outlook on life. Even if you don't have a post to link up, I'd love to encourage you to just stop where you are and think of three things that you are thankful for. Do that each day. It's amazing how much we have to be thankful for even when it doesn't feel like there is anything!
This week I am thankful for:
* Finally making headway in organizing our home. A couple months back, we swapped a couple rooms. The master bedroom is downstairs, but that room was best used as Peyton's room. Ron and I set up the second bedroom upstairs as the "master", although I slept in Peyton's room with her and the continued to sleep down there after she passed as I was having difficulty moving out of there. Then my ankle injury kept me downstairs because I physically could not get upstairs. I finally suggested to Ron that we swap the rooms and make the downstairs room the master. The idea was that we'd set the upstairs room as a sitting room. It's not finished yet, but it is finally at a point where it is actually functional. There are a lot of boxes to go through. We've gotten rid of a bunch of junk, but we still have a little way to go. I'm just happy that the room is finally
mostly
set up the way we want it.
* Warmer weather. We had a cold snap here for a while and this week it finally warmed up. Although, as I write this, it's a little cooler again. I would never make it living in the north again!
* Independence. Out of necessity, I was required to get back in the driver's seat the other day. I hadn't driven since before I hurt my ankle on September 8th. I haven't gone over 5 months without driving since before I got my license when I was 16! It wasn't fun. In fact it even hurt somewhat. But I did it and am now officially liberated from the passenger seat!
* 45 days til our cruise! I can't wait!
* I am including a late addition to this post. Moira came home yesterday with a sealed letter from the guidance
department. It started out by saying, "Congratulations! You have qualified to participate in the 4th/5th Grade Talent Search sponsored by Duke University Talent Identification Program (TIP). The Duke TIP 4th/5th Grade Talent Search is aimed at students who possess high academic ability - students like you!" I couldn't be more proud of Moira - or more grateful for this opportunity for her!
What are you thankful for this week?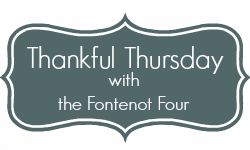 {Please note that any spam or inappropriate link ups will be removed!}