It's Thankful Thursday! Welcome to this weekly link up, whether you're here for the first time or a long-time follower. I appreciate you being here!
This week I am thankful for:
* The strength to have endured all that 2013 brought our family.
* The many people who prayed with and for us, who worshiped with us and prayed at Peyton's hospital bedside, who comforted us, who mourned with us, who encouraged us, who supported us, who loved on us, and who believed in us throughout 2013.
* Closing the books on 2013. It was a tough year. I am claiming right now that 2014 is going to be a year of
immeasurably more
for our family.
* New beginnings.
What are you thankful for this week? Feel free to grab a button and link up your "thankful" posts below!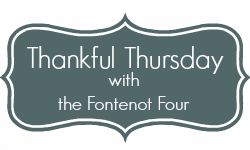 {Please note that any spam or inappropriate link ups will be removed!}