Welcome to Thankful Thursday! Each Thursday, I host a "Thankful Thursday" link up so that we can share with each other the things in our lives that we are grateful for right now. I am in my third year of hosting this link up. I have felt strongly for a long time that it is important to stop and take a moment to recount the things in our lives for which we are thankful. When life is full of challenges, it is often hard to think of anything that could possibly be worthy of giving thanks. I felt that way for a long time. However, once I got into the weekly habit of doing this, I found that there are
always
things to be thankful for - even if the most difficult of life's seasons. It goes beyond that. Developing an attitude of thanksgiving can change your outlook on life. Even if you don't have a pots to link up, I'd love to encourage you to just stop where you are and think of three things that you are thankful for. Do that each day. It's amazing how much we have to be thankful for even when it doesn't feel like there is anything!
This week I am thankful for:
* Beginning a writing challenge. I came across a challenge on January 1st which encourages writers to write 500 words a day. More if they have more to say - but the challenge is 500 words minimum. I've been struggling in the area of my writing and so I took on this challenge. You can read all of my posts for this challenge
HERE
. It's not easy to come up with a topic each day. That is a big struggle for me, but I am trying. This challenge will surely get me back into a better habit of writing!
* Encouragement from other writers. There are hundreds of writers in on the
My 500 Words
writing challenge. There is a facebook page where we are able to encourage others, be encouraged, share our writing, and receive great prompts and tips from writer, Jeff Goins. It is great to have a place to go to for all of these things. It's helpful to see what is working or not working for others in on this challenge.
* Being "stitch free"! Yesterday morning I visited the Orthopaedic Surgeon's office where the nurse removed the many stitches from my ankle. It isn't something I'd care to go back and experience on a regular basis, but it wasn't horrible. I felt a pinch as each stitch was removed. I think there were somewhere around 10 stitches or so. Towards the last few stitches, the "pinch" became more of a "burn". Once they were all out, I had quite the burning sensation for much of the ride back home, but that settled down. I have steri strips in place of the stitches. I also have an Ace bandage wrapped around my foot and ankle, as I have had for the last couple weeks since getting my cast off. I am still in the big black boot. Next week I will see the doctor himself so he can see how things are progressing. It is my hope that I will be able to to do some weight-bearing soon, even if it's still with the use of crutches.
* For continued healing and progress with my ankle. I've got a long way to go still, but I'm closer to full recovery each and every day.
What are you thankful for this week? Please note the new linky tool that I am using. I have been having a problem with a particular website spamming my link up the last few weeks. Hopefully this will help alleviate that problem. If you have any issues using this linky tool, please let me know!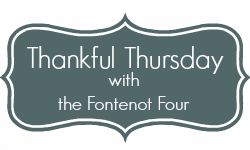 {Please note that any spam or inappropriate link ups will be removed!}
{if you're counting - that was 644 words for my ninth My 500 Words post, for a total of 6,856 this month!}