Welcome to Thankful Thursday! Each Thursday, I host a "Thankful Thursday" link up so that we can share with each other the things in our lives that we are grateful for right now. I am in my third year of hosting this link up. I have felt strongly for a long time that it is important to stop and take a moment to recount the things in our lives for which we are thankful. When life is full of challenges, it is often hard to think of anything that could possibly be worthy of giving thanks. I felt that way for a long time. However, once I got into the weekly habit of doing this, I found that there are
always
things to be thankful for - even if the most difficult of life's seasons. It goes beyond that. Developing an attitude of thanksgiving can change your outlook on life. Even if you don't have a post to link up, I'd love to encourage you to just stop where you are and think of three things that you are thankful for. Do that each day. It's amazing how much we have to be thankful for even when it doesn't feel like there is anything!
This week I am thankful for:
* The
My 500 Words
writing challenge. I missed a couple days this week for the first time since the writing challenge started. I felt bad about not writing! But I felt worse physically. I have had a silly head cold for over a week and it just wore me out. I wasn't up for it, so I didn't push myself to write something that would ultimately not be very meaningful. As it is, my average over the course of the month is still over 700 words per day, so I'm just not going to beat myself up over having missed two days!
* Continued recovery. On Tuesday night, I was able to take my boot off at night for the first time in the seven weeks since my ankle surgery!! If you've ever worn a boot, you understand my elation! I do have to wear an ankle brace at night still. I still have to wear the boot during the day for two more weeks. In a couple weeks, I'll be in the brace 24/7. The down side to moving to the ankle brace is that, right now, I'm having to use the crutches if I have to get up. I can't walk well enough without the boot just yet.
* Snow. Here in the lowcountry, we did in fact have some snow this week! The Weather Channel was even in town to cover the "event". You non-southerners are probably sitting back laughing at the way the south handles snow. However, you do have to bear in mind that we just aren't equipped for real winter weather down here. Moira's school let out at 11:45 am on Tuesday and she's had yesterday and today off school because of hazardous conditions. I'm grateful to have her home with me rather than her having to be out on the icy roads and away from home.
* Real beauty. On Tuesday, a few blogger friends and I banded together to promote real natural beauty. After seeing a couple different YouTube videos floating around on Facebook on the subject, we decided to take up the cause and help spread the message that girls and women alike are beautiful just as they are. I wrote my post on that over
HERE
. My "barefaced" picture is below. I encourage you to read my post and help spread the word by either sharing that post or doing one of your own! Don't forget to hashtag it with
#barefacedbeauty
and / or
#BeautyIs
!
What are you thankful for this week?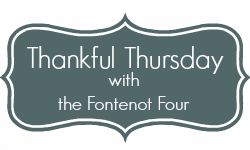 {Please note that any spam or inappropriate link ups will be removed!}
{if you're counting - that was 634 words for my thirtieth My 500 Words post, for a total of 20,565 this month!}