Welcome to Thankful Thursday! Each Thursday, I host a "Thankful Thursday" link up so that we can share with each other the things in our lives that we are grateful for right now. I am in my third year of hosting this link up. I have felt strongly for a long time that it is important to stop and take a moment to recount the things in our lives for which we are thankful. When life is full of challenges, it is often hard to think of anything that could possibly be worthy of giving thanks. I felt that way for a long time. However, once I got into the weekly habit of doing this, I found that there are
always
things to be thankful for - even if the most difficult of life's seasons. It goes beyond that. Developing an attitude of thanksgiving can change your outlook on life. Even if you don't have a post to link up, I'd love to encourage you to just stop where you are and think of three things that you are thankful for. Do that each day. It's amazing how much we have to be thankful for even when it doesn't feel like there is anything!
This week I am thankful for:
* The
My 500 Words
writing challenge. Once again, I am thankful for this. This writing challenge has given me a much needed boost in my writing. I have writing
something
every day this week. The content may not be earth-shattering or award winning, but I've written each day, and that's something I've not done for quite a while prior to this month.
* Recovery. I shared a post yesterday about my
progress
with my ankle injury. I've been able to walk without crutches for the past couple of days. It's not pretty and it's not without a great deal of pain, but I'm doing it. It's also wearing me out. I find with each new improvement, I am winding up more exhausted. I guess that's because I am able to do more and I'm not used to doing very much lately!
* Knitting. I've been knitting a bit more than usual lately. It's one of those things that comes and goes. Kind of like my reading. I go in spurts and will read or knit a lot for a while and then, just like that, nothing for ages. I've churned out four of these infinity scarves. The one below is a lovely greeny/grey shade called "Willow". I've got one in a mixed dark/light grey combination and another in a shade called "Citron" which most people have simply been calling "Mustard". I love making these. So easy and they are so cozy! I haven't put them in my shop yet, but if anyone is interested, they will be $25 plus shipping!
* Family. My dad came for a visit last weekend. He lives in Canada, so we don't have many opportunities to see him. He brought his friend with him. It was nice to see them. It was a good visit. I just wish I had been a little more mobile!
What are you thankful for this week?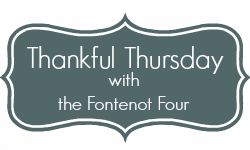 {Please note that any spam or inappropriate link ups will be removed!}
{if you're counting - that was 528 words for my twenty-third My 500 Words post, for a total of 18,724 this month!}