Welcome to Thankful Thursday! Each Thursday, I host a "Thankful Thursday" link up so that we can share with each other the things in our lives that we are grateful for right now. I am in my third year of hosting this link up. I have felt strongly for a long time that it is important to stop and take a moment to recount the things in our lives for which we are thankful. When life is full of challenges, it is often hard to think of anything that could possibly be worthy of giving thanks. I felt that way for a long time. However, once I got into the weekly habit of doing this, I found that there are
always
things to be thankful for - even if the most difficult of life's seasons. It goes beyond that. Developing an attitude of thanksgiving can change your outlook on life. Even if you don't have a post to link up, I'd love to encourage you to just stop where you are and think of three things that you are thankful for. Do that each day. It's amazing how much we have to be thankful for even when it doesn't feel like there is anything!
This week I am thankful for:
* The
My 500 Words
writing challenge. I mentioned it last week and if you've been around my blog this month, you'll notice that my post titles have mostly all begun with
"My 500 Words: Day xx - ..."
. I wanted a way for me to look at my list of posts and see at a glance this particular grouping of posts. I have managed, through 16 days now, to write posts of at least 500 words a day. Perhaps the posts haven't been the most exciting, and that's ok. The point is that I am writing. I am trying. I am challenging myself to get into that daily habit of writing
something
, and for that I am thankful. I needed this. If there's anything you'd like to read about, let me know and I'll try to incorporate some ideas into my upcoming posts!
* A great report from the Orthopaedic Surgeon yesterday. I have been "stitch free" for one week, but had yet to see the doctor since having my surgery. He removed the steri strips and we got a look at the incision. It looks
amazing
compared to what it looked like just a couple weeks ago. If you saw the pictures of the incision
with
stitches, you saw that there was a big bulge of skin along the incision line. It looked nasty, but it was done intentionally. The reason was so that, as it healed, the scar would become flat rather than concave. It is nearly healed and is lying almost flat now. It is amazing the difference a week makes! I have to keep the boot on round the clock for two more weeks. In two weeks I can stop wearing it at night. Two weeks after that, I can transition to a brace. In the meantime, I am to start walking, putting light pressure on my foot for now and using the crutches for assistance. The goal is to be walking in the boot without crutches in the next couple weeks or so. I can also begin physical therapy at this point. I will see the doctor in 6 weeks for another follow up. Yay for progress!!
* For the neighborly assistance. I shared the other day that we decided to undertake a
room swap
in our house. This involves moving heavy furniture from the upstairs to the downstairs and other heavy furniture from downstairs to the upstairs. Of course, I can't do anything except sit and "supervise" and it's too much for one person to handle. Ron enlisted the help of our neighbor. The couple next door came over to lend a hand. Phase one is complete. There's much to be done, but everything that needed to come downstairs is down now. We still need to organize and then rearrange the upstairs room. Then there's another phase which will involve moving stuff from Moira's room to the other room upstairs. Again, that will require more neighborly assistance! Hope we didn't scare them off after phase one!! I know Ron and I both are very grateful for their help!
What are you thankful for this week?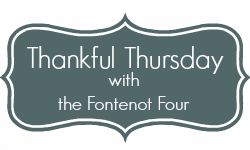 {Please note that any spam or inappropriate link ups will be removed!}
{if you're counting - that was 732 words for my sixteenth My 500 Words post, for a total of 12,662 this month!}