Today is the big day! It's time for the Scarf & Scripture swap! I am co-hosting this swap with Viv from Big K Fam, Kelly from The Houtz House Party, and Allison from Sweatpants & High Heels.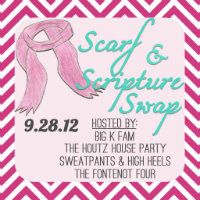 Here are the details:
* Sign up for the Scarf & Scripture Swap below using the linky tools widget below.
* Please make sure you are 100% committed to participating.
* Sign up is open Friday and Saturday only.
* You will be paired up with someone with whom you will swap a scarf and a note with your favorite scripture verse telling why it is your favorite.
Sign up for the Scarf and Scripture Swap:
1. Link up by leaving your first name and what country you live in under the "title" section.
2. You will be emailed your partner's contact info using the email through this sign-up.
3. If you're not a blogger and would like to participate, email bigkfam@gmail.com, and you will be added to the list!