On July 1st I wrote a different sort of post. I made a public plea for you lovely ladies to send me your bras. Yes, your bras.
Why??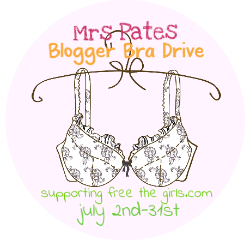 For the month of July, I was part of a Blogger Bra Drive with Tiffany from Mrs. Pate Writes. If you don't know her yet, you should get to know her!! A while back, she had put out a similar plea for bras on our church's women's ministry facebook page. She later decided to organize her own bra drive and called on fellow bloggers to collect bras in an effort to help an organization called Free The Girls. Per Free The Girls' home page, they are "a non-profit organization that provides job opportunities to women rescued from sex trafficking." You can read more about "Why Bras" here.
I made the plea and you responded!
Bras were shipped to me from all across the United States. Bras were shipped to me from three different countries!!

For the past 31 days I have been collecting bras. Some have been handed to me in person and so many were mailed to me. Our postal worker is going to be so thankful this is over!!
I tweeted and facebooked requests for your "support" in this endeavor. Tranae wrote her own awesome post asking for support for the cause on her blog! Paige and Kendra allowed me to guest post on their blogs asking for even more bras.

I even got a phone call from a friend on my way home from church one night. She had some for me and was asking if she could drop them off on her way home as she happened to be out just then. As it turned out, we were both approaching the exact same intersection at the exact same moment. As soon as we each made it through the light, we met up on the side of the road and her husband handed off a paper bag full of bras. It was dark at the time. I'm sure it could have easily been mistaken for something totally different!!
So many of you responded to this bra drive. I am so overwhelmed by your "support" for the cause. Some of you sent a couple and some of you sent ten. One even handed me a bag of twenty-five that she had to contribute to the bra drive!
No matter how many you sent, you sent them and I am so beyond grateful to you for helping out!
Enough talk.
How many bras did I collect, you are asking??
Thanks to my friends and fellow bloggers, I collected
THANK YOU!!
I have never had this many bras in my life, much less all at one time! But, no, they aren't for me. These will be shipped to Free The Girls.
Miss out on the opportunity?
Save up your bras for the next drive. I'm sure there will be one.
Or...
If you feel inclined to contribute to the shipping, that would be a way to help out as well. Or you can check out the website for Free The Girls to find out about other ways you can help!