Welcome to week two of Into the Word Wednesdays!
What is Into the Word Wednesdays?
Each Wednesday, we will host his link up where we can all come together and share what we are learning each week in our scripture study. We don't have to be on the same plan. We don't have to be on a plan at all! Just be reading something from the Bible throughout the week and then come link up here!
It's also a "hop", so it's a great opportunity to connect and follow other Christians who are excited about sharing their faith journey!
As you may know from past posts, I have been engaged in a year-long scripture study this year. This is my second year doing this. Each day, I read the readings from my plan and I tweet my insight in 140 characters or less. The image above is the note I made in YouVersion which was the insight I later tweeted for day 180. The scripture referenced was Acts 19:32. In and of itself, this passage probably doesn't carry a whole lot of significance to the reader. In context, this verse is from a passage in Acts in which Paul is talking about some riots that occurred at Ephesus. You can read that passage from Acts 19:23-41 here. Verse 32 describes the confusion in the crowds. Some people were shouting one thing and others were shouting something else. It was chaos. The verse even states "Most of the people did not even know why they were there."
Several months ago, I remember one of our pastors giving a message. I can't recall off the top of my head which pastor it was or even what the entire message was - or if it did, in fact, reference this same scripture. All that said, the point of what he was saying at the time stuck with me. So, my insight for day 180 of my plan came from that message. It had stuck and this passage brought that to my mind from out of nowhere. My insight is my own, but it stemmed from something that had been preached some time ago at church.
Here was the point being made. How often do we find ourselves in situations where we have a choice to make - a choice wherein we pick a side of an issue and argue for or against it. Maybe it's a political issue, or a social issue. Maybe it's spiritual. Perhaps you find yourselves actually physically placed in a crowd where you must take up one side of an issue and rally for it. You may even have simply found yourselves, by happenstance, in the midst of a situation that began to brew and before you know it, an argument ensues and people surrounding you are arguing one way or another.
I think in our society today, it is easier now more than ever to become inundated with causes. Social media outlets are full of new reports - from respectable sources and not so respectable sources. We are bombarded with news, reports on social injustices, crimes, and a whole host of issues on a daily basis. It is so easy to get caught up in an issue. It might simply be seeing someone write a post in which they make a strong stand on a particular issue and you find yourselves in strong agreement with that person. Then you might see another post written by a different writer who takes an opposing view on that same issue and you think, yeah, I can see that point too! You begin rallying for one side or another. Mental battles ensue and before you know it you're cheering for one side or another and the side you're now rooting for may not even bee the one you originally supported!
We get caught up in issues online and in person. We see and hear the multitudes around us taking up one side or another. There's cheering and rallying cries and intense arguing for various sides. The adrenalin kicks in and before we know it, we can so easily find ourselves cheering those same cries.
The point of that message I heard those many months ago was that we need to be really cautious about being swept up in the crowd. Really cautious. We need to be really honest with ourselves and our true feelings. Does the cause reflect our beliefs? Does it reflect the truth in the Word? Does it honor God? How does our behavior and our stance on the issue reflect these things? That little bit of insight from day 180 really goes much deeper. Be careful that you aren't just being swept up because of the excitement in the crowd and that you don't wind up cheering and chanting for issues that aren't godly in nature. Be careful that you aren't succumbing to peer pressure and societal pressure in support of issues that you truly don't support.
*****
I would
LOVE
it if you linked
up with a post about what God is showing you in the Word, or in your life. Please also stop by and see what God has been teaching my beautiful co-hosts this week: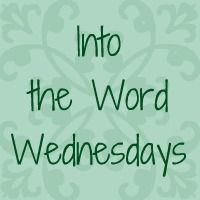 Into the Word Wednesday Blog Hop Rules:
1. Write a post about what God is teaching you this week.
2. Follow the host and hostess.
3. Grab a button to put on your blog - the more the merrier!
4. Check out (and comment) other people's blogs and be blessed by all the sisters and brothers around the world!