Friends, we have a visitor today! I'm really excited to have Kassi from Truly Lovely guest posting here today! She is sharing a word on giving thanks. Something you may have heard around these parts once or twice before!! ;)
Hello there lovelies!
I am SO excited to be taking over The Fontenot Four today!!!
I'm Kassi from
Truly Lovely
. Truly Lovely is an 'all things lovely blog' written by me and my sister, Kayli.
You can click that picture to learn more about us and our blog, but in the meantime I'd love to share this pretty awesome idea that Miss Kayli came up with...
Being thankful!
Monumental right!?! Well, not entirely monumental... You know that the lovely Sarah has her
Thankful Thursday
series... GREAT idea by the way! ;)
But really, how many of us actually take time from our day to think about what we're thankful for?
Raise you're hand? Go ahead nobody's looking...? Anyone?
Me neither. *hangs head in shame*
But Kayli had this idea to do
Ten Weeks of Thanks
and list a few things that you're thankful for every week.
There's even a cute little button and a linky party!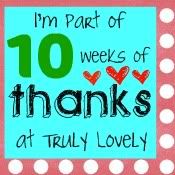 She's already finished, but I'm a little behind so I'm going to share my week ten with you dolls. Mostly in hopes that you'll take a minute at least today and think about what you're thankful for!
So... here's MY list of a few of the specific faith related things that I'm thankful for...
1. ALWAYS having Someone to turn to. Through the gift of prayer you can always reach out to a Higher Power. Whatever/Whomever you believe that to be... But in my case I know that our Heavenly Father is there to listen and answers our prayers. We are never really alone and that is such a comfort especially in times of trial.
2. Having a conscience. Sure, everyone should know right from wrong... but through my faith, I get that extra boost of knowing that doing the right thing will eventually bring great rewards. It's not just about us... It's about helping and loving others and through that our lives can be SO much richer!
3. The gift of repentance. Everyone makes mistakes. That's life... but through the atonement we have the chance to repent for our sins and truly strive to live a more perfect life.
Now, we're not overtly religious on our blog... But Kayli's post about the things she's thankful for as related to faith is really beautiful. If you'd like we'd love to invite you
over to read her thoughts
as well. :)
Thanks so much to Sarah
for allowing me to share with you lovelies today!
Hopefully you'll take a minute and think about what YOU'RE thankful for! If you have time to write a post we would love to see it!
You can link it up here
. :)
Have a lovely day!
*****
Thank you, Kassi, for such a wonderful post!
You know me, I am all about finding ways to give thanks. I think everyone has room for improvement in that department. I love this idea of taking time each and every day to find things - even small things - to be grateful for. There is so much to be thankful for if we just stop and look around us!
I hope you will all swing by
Truly Love
and show Kassi and Kayli some love!