I am really excited to be helping to kick of a new weekly series with my friends
Becky
and
Kelly
! It's called "Into the Word Wednesdays". It's all about sharing with others what you are currently learning from scripture. When Becky approached me about this idea, I was all over it! I've been doing something similar on my own each week for a year and a half through something called the
Daily Wisdom Challenge
.
What is the Daily Wisdom Challenge?
The pastor of my church put forth a challenge a couple years ago to people to join him in a daily scripture study. The way it works is that you would select a Bible reading plan and read scripture each day. Then you would post your insight on the scripture "twitter style" - that is, in 140 characters or less - and then tweet or post a facebook status with that insight as well as comment on his daily facebook post for the challenge.
Where can I find a bible reading plan? What's that all about?
There is an awesome website called
YouVersion
. They have a page devoted to helping you select an appropriate reading plan. You can find that page
here
. You can choose a plan based on a particular book or section of the Bible, a plan with a "devotional" theme, a "topical" plan, or even a plan for youth! They have several "whole Bible" plans available to choose from. Last year I did the
chronological
plan - and, yes, I
did
complete it! This year I am doing
the one year Bible
plan. There are plans that last a few days and plans that go for a year - and everything in between.
You may not want to do a whole year plan - especially if you haven't tackled that before! Maybe you just want to wade into the waters of Bible-reading and select something topical - perhaps a 3 day study on
hope
is what you want, for example. The point is - dive in - just find something that is at whatever pace you are wanting to go at right now. Then read! The great thing about YouVersion is that you can read online and it tracks your progress. I am on day 171 of 365 of my plan and am 46.6% complete. You can have multiple plans on the go simultaneously.
So what is Into the Word Wednesdays?
Each Wednesday, we will host his link up where we can all come together and share what we are learning each week in our scripture study. We don't have to be on the same plan. We don't have to be on a plan at all! Just be reading something from the Bible throughout the week and then come link up here!
It's also a "hop", so it's a great opportunity to connect and follow other Christians who are excited about sharing their faith journey!
I would
LOVE
it if you linked
up with a post about what God is showing you in the Word, or in your life. Please also stop by and see what God has been teaching my beautiful co-hosts this week: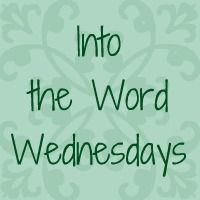 Into the Word Wednesday Blog Hop Rules:
1. Write a post about what God is teaching you this week.
2. Follow the host and hostess.
3. Grab a button to put on your blog - the more the merrier!
4. Check out (and comment) other people's blogs and be blessed by all the sisters and brothers around the world!