Can you believe it's Day 5???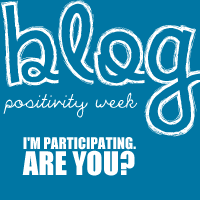 I am beyond excited about this week. I'm so grateful to Ashley from After Nine to Five for hosting this awesome series this week! If you haven't already, you really ought to go over to her site and start reading her blog as well as the posts that people have linked up for this series.
When I consider my own blog, it has been a very large part of the faith journey that I have been on for a while. I began by using it as a place where I could share all the joys and blessings in my life at a time when I just wasn't seeing any of those things. Blogging changed my view on life. Blogging introduced me to so many people who were also on some sort of a faith journey.
On thing I struggle with are numbers. I've said it before - the numbers are not what's important here. I'm not a "big blogger" by any means. If you are looking at how to follow me, you may have noticed a change I made recently. My GFC and Linky Follwers boxes have moved....all the way to the bottom of this page.
Why??
Because every time I got onto this blog, the first thing I'd do would be to see if I had new followers. Often times, the number stayed the same. Even dropped by one or two a few times. It would also increase, which led to a feeling of accomplishment and joy.
Lately, though, I've been struggling. I want to be able to reach people and maybe help or bless someone along the way, but doesn't that mean that I need numbers?? It is so easy to be consumed by numbers.
I decided to relocate the boxes with the numbers to the very bottom so they would not be something I would immediately see. In fact, I'd have to be intentional about scrolling all the way to the bottom if I wanted to see if they'd changed since the last time. I hesitate to remove them altogether because I figure there may be people who want to follow me using those methods. That is fine! I love having you!
This blog is about a faith journey with the occasional bit of randomness thrown in for good measure. Over the year or so that I've been blogging, I feel like I have been able to develop my writing and I want to use it for good. It is through blogging that I've been able to really express my faith in a way that I'm not sure could happen without the written word. I've said I'm quite shy and engaging in conversation with new people in person can be really challenging for me. So, engaging in a faith-based conversation, speaking gospel truths, can be really daunting. I admire so many women in my church who can get up and speak so eloquently about their faith journey. I'd love to be able to be like that.
Was that a comparison???
You see, while I'd love to be able to do that, I feel like God has given me writing as a tool to use to speak His word to others. So I use it here. A lot.
I know there are a lot of other Christian or faith-based bloggers out there.
But I also recognize that this type of writing just doesn't grab everyone. It's not everyone's thing.
I'm not exceptionally crafty or fashionable, so the types of posts I write tend to be all about my faith journey.
There's nothing wrong with that - at all.
I want to encourage you, that if you feel out of place because this just happens to be your niche too, then don't feel that way. Sometimes I feel like my readership or numbers are lower than others who have been blogging for similar amounts of time is because of my blog content - like I said, it's not everyone's thing.
And that's ok!
I am ok with all of this because this is who I am. I am keeping it real. I am staying true to myself. I do not want to compromise who I am or what I believe in for the sake of numbers. So, if you're new, don't be discouraged. You'll find your way. You'll find your place. You'll find incredible support from like-minded women and you'll be glad you stuck it out. It's hard, but so rewarding.
Be true to you!
Source:
tabletonic.blogspot.com
via
Sarah
on
Pinterest