Friends, this month you may have seen this button gracing my right side bar. If you haven't already clicked on it to find out what it's all about, you really should!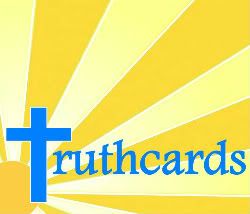 Today I want to introduce you to Jenna Surratt. She is the amazing woman behind Truthcards. You really must check her site out. Truthcards are an amazing tool for teaching your child scripture. I recently had my friend Kelli write a guest post on this blog about intentional parenting. She spoke about teaching her children scripture and I immediately thought of Jenna. You should look into these cards for your families - $20 is a pretty small investment in your child's spiritual upbringing!
Source:
truthcards.org
via
Sarah
on
Pinterest
Jenna is on staff at my church - Seacoast Church - is the wife of missions pastor, Jason, and mom to three beautiful girls. She is also a part of Seacoast's women's ministry called "Sisterhood". I recently met Jenna and I asked her if she wouldn't mind sharing a word over here on my blog. I'm hearing so much about being intentional lately and her Truthcards are truly an amazing way to assist in this in your home. I wanted to help her promote these cards as well as give her an opportunity to share a word with all of you! She gave a message at Sisterhood yesterday. It is definitely one worth sharing!
With that, here is Jenna!
*****
A Quick "How To" Arise from Worry


Matthew 6:24-34 has been one of my favorites for about ten years, but it really came alive for me a few years ago. We had one child and I was pregnant with our second. Jason and I bought a trip to Hawaii at a silent auction. On our first day, I woke up early and went on our balcony to have a quiet time. I was working in the corporate world and the Lord had put on my heart the idea of staying at home with our children, but I knew that it would financially be really tough. I was seeking Him that morning for counsel. A little bird flew up and sat beside me for almost an hour and reminded me of Matthew 6:26. I really felt like it was the Lord's way of telling me not to worry, that He would provide. That sweet little bird spurred a long faith journey for our family. Since then, birds have been a reminder for me not to worry and a symbol of God's promised provision. With the Lord's help, I came up with some practical steps that fit into a little acronym to help you arise from worry. Ironically, the acronym is B.I.R.D.S.
Believe God Knows


No matter what the situation, isn't it comforting to know that someone understands what you are going through? Even if you've told no one else on earth, your heavenly Father knows what you need.
Last week my oldest daughter had the flu. Several times when she was feeling really awful, I just held her and told her that I knew she felt terrible and that I was going to take good care of her. This brought her great comfort. Next time you have a concern, imagine your Heavenly Father holding you and telling you that He knows.


Identify truth


• Today, the top concern that Americans have deals with money and the Lord tells us that we can't serve Him and money (Matt 6:24).
• We are God's treasured children and He is going to take much better care of you than the birds (Matt 6:26).
• Worrying is more harmful than helpful (Matt 6:27).
• The Lord doesn't want us acting like He doesn't exist (Matt 6:32). Worry is an emotion of this world and, as Christ followers, we are called to a higher standard. When you are facing a tough situation along with someone else, let it be an opportunity to testify about your trust in God. And mean it! As Jesus prayed in the Garden, He obviously wasn't looking forward to being beaten within an inch of His life and death on a cross, but He said, "Not my will but yours be done." And He did it all to bring God glory. When you are facing a tough situation, remember God exists, He loves you, He sent His Son to die for you and raised Him from the dead so you could have eternal life in heaven. These truths should naturally guide us into the R portion of our acronym.
Redirect your devotion


Seek first his kingdom and his righteousness, and all these things will be given to you (Matt 6:33). We tend to worry about the things that we are devoted to – whether it be finances, children our spouse or something else. Next time you catch yourself worrying, check your devotion and make sure that God is your priority. Do you believe He will take care of you? Your devotion determines your emotions. On that same note, your daily devotion time with the Lord determines your emotional reaction to situations that arise. Spend time with Him, stay in the Word and in prayer. You'll find that the more you focus your time and attention to the Lord who will never fail you, the less inclined you will be to worry.
Dwell on good


Phil 4:8 says "Whatever is true, whatever is noble, whatever is right, whatever is pure, whatever is lovely, whatever is admirable – if anything is excellent or praiseworthy – think about such things."
This discipline definitely takes practice and help from the Holy Spirit, but can be done. When we keep our minds focused on God's word, it is so much easier to trust Him. Often I find that I worry about the most irrational things. When our minds aren't focused on trusting the Lord, Satan will sneak in, steal our joy and paralyze us with fear.
Sing


Psalm 104:12 says "The birds of the sky nest by the waters; they sing among the branches." Birds trust their Father's provision so much so that they are unconcerned about tomorrow, living the most cheerful lives of all creatures; they sing among the branches and praise their Creator. Our worldly cares can diminish our joy and silence our praise. God created us to worship Him and we should be singing as gleefully as they do.
*****
Jenna, thank you SO much for sharing this word here on my blog!
If you were a part of Sisterhood and heard this message, what a wonderful reminder to have it in print! If you weren't there, then I am so happy that Jenna was willing to share this with you here today!

As we reflected on Jenna's message at Sisterhood yesterday, we listened to "Love Came Down" by Brian Johnson. Here it is for you to listen to as well!


Thank you again!!!
Friends, please be sure to stop by Jenna's
site
!