Welcome back for Day Five of the Twelve Days of Christmas!
Thanks,
Kelli
, for sharing Day Four yesterday!
I recently began a "Sunday series" I call "Simply Scripture on a Sunday".
Today I'm combining that concept with this Christmas series.
Luke 1:26-38
New Living Translation (NLT)
The Birth of Jesus Foretold
26
In the sixth month of Elizabeth's pregnancy, God sent the angel Gabriel to Nazareth, a village in Galilee,
27
to a virgin named Mary. She was engaged to be married to a man named Joseph, a descendant of King David.
28
Gabriel appeared to her and said, "Greetings, favored woman! The Lord is with you!
[a]
"
29 Confused and disturbed, Mary tried to think what the angel could mean. 30 "Don't be afraid, Mary," the angel told her, "for you have found favor with God! 31 You will conceive and give birth to a son, and you will name him Jesus. 32 He will be very great and will be called the Son of the Most High. The Lord God will give him the throne of his ancestor David.33 And he will reign over Israel[b] forever; his Kingdom will never end!"
34 Mary asked the angel, "But how can this happen? I am a virgin."
35 The angel replied, "The Holy Spirit will come upon you, and the power of the Most High will overshadow you. So the baby to be born will be holy, and he will be called the Son of God. 36 What's more, your relative Elizabeth has become pregnant in her old age! People used to say she was barren, but she's now in her sixth month. 37 For nothing is impossible with God.[c]"
38 Mary responded, "I am the Lord's servant. May everything you have said about me come true." And then the angel left her.
_____
That's the "scripture" part.
But just reflect on this story for a moment.
Put yourself in it.
I cannot even comprehend how I would have acted or reacted if it were me in this situation.
I certainly don't think that I would ever be considered worthy of the honor
which was bestowed upon Mary.
I wonder what she felt. What she thought.
Did she think she was worthy?
God chose to use this young then-unmarried woman to give birth to His son
in earthly human form.
He certainly put her in an awkward position with her fiance, Joseph.
But they responded to God's call.
They were confused.
But the impossible became possible.
This was evident in not only Mary's situation, but Elizabeth's as well.
God chose to use simple common people to parent His son, Jesus,
as well as John the Baptist.
Why?
Because He can.
God can do anything.
God can use anyone.
So, the next time you're down on yourself for not being good enough...
for not being one of the leaders in your church...
for not being important enough...
for thinking you don't matter...
Think again.
It may not wind up being something of this magnitude,
but God can use you
for anything He chooses.
YOU
can be used
by God
to accomplish something great too.
Never sell yourself short!
*****
To catch up on the series, click on these links below:
Feel free to grab a button: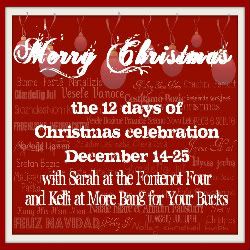 linking up: