Today I want to introduce you to the lovely Amanda from Royal Daughter Designs! She offers both pre-made and custom designs for blogs. I've seen some of her work - makes me start dreaming of a blog makeover....
Without further ado, here is Amanda!
Hey y'all - it's nice to meet you! Of course, we haven't officially met until you come on over to
my place
and say hi, so consider this to be your official invitation!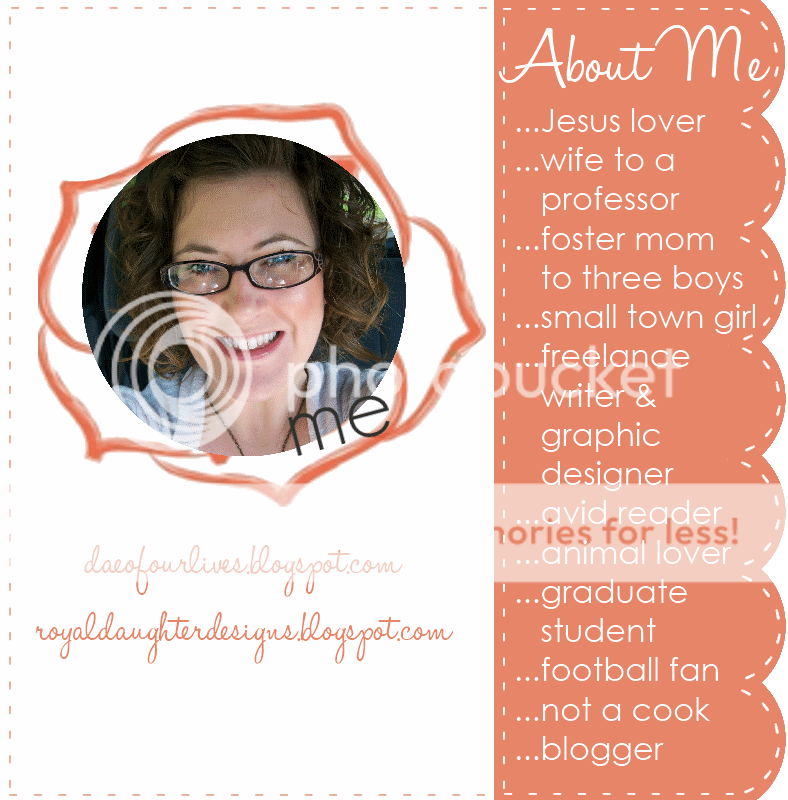 I'm so honored to be here visiting Sarah today, and thank you for joining us. I hope you'll pull up a seat, pour yourself some coffee (or tea if you prefer), and join us while I tell a story.


It was a two and a half years ago, at the height of my husband's PhD program. Tension was frequent, and quality time was scarce.


I missed him. Sometimes it felt like we were room mates rather than husband and wife. To say he was busy would be an understatement. To say I was selfish would be gracious.


That night I made a deal with him. I offered to clean the kitchen, which is normally one of his duties, in exchange for a guaranteed 30 minutes of snuggle time. With his late nights of studying, plus my crazy work schedule, cuddle time was beginning to look like a luxury. Since I've been missing my hubby, I thought to myself, "If he doesn't have to clean the kitchen, maybe he'll have extra time to spend with me." I freely admit that it was a selfish gesture.


Let me back up. In our home David and I have a (mostly) mutual agreement that when I cook, he cleans the kitchen. His method of cleaning usually means putting away the food, loading the dishwasher, and rinsing all the pots and pans until they are needed, at which time I wash the pots and pans. I'm not criticizing - I think he's got the system figured out to his advantage! All this to say that kitchen patrol is not a highly sought after duty in our family - we both avoid it when possible.


That night I selfishly offered to clean the kitchen and wash the dishes. This was quite an offer, as I had I made a great dinner of chicken fajitas with queso and refried beans. Scrumptious, yes, but the mess it made was noteworthy.


Standing there at the kitchen sink, I grumbled to myself, "washing dishes must build character." I remembered reading Calvin and Hobbes when Calvin's dad describes pretty much any unpleasant task as "building character." So there I was, hands submerged in hot soapy water, thinking about how washing dishes builds character.
Then I realized that it does build character. The character trait of service.

It brought a small amount of comfort that by washing dishes, I was serving my husband!

When we married six and a half years years ago, a large part of our wedding was devoted to explaining and displaying Christ-like servant leadership. Jesus Christ said in Mark 9:35,


"
So you want first place? Then take the last place. Be the servant of all.
"
And Paul said in Philippians 2:5-7,
"
You must have the same attitude that Christ Jesus had. Though he was God, He did not think of equality with God as something to cling to. Instead, He gave up His divine privileges; He took the humble position of a slave (servant.)
"
These verses have been foundational in our marriage, each of us serving one another as Christ served His disciples. It doesn't always work out that way - but it is our goal.

That night, with my hands sudsy and pruny, I rediscovered a fundamental character of a Christ Follower: having a servant's heart. Interesting lesson learned at the kitchen sink, I'd say.


Have you had a deep revelation while doing a common (and less than beguiling) chore? I'd love to hear about it! I'd also love to get to know you. You can find me on facebook
here
, and twitter
here
. I also have a blog and graphic design
blog
. Beginning on November 21 Royal Daughter Designs will be hosting
Christmas Ornament Countdown
: 30 days of handmade ornaments and holiday decorations. If you have a DIY ornament idea, I would love to show off your mad ornament crafting skeelz! Would you consider partnering with me for 30 days to share some of your awesomeness? You can find all the deets
here
.
Lastly, I just want to say thank you again to Sarah for having me today. She's a treasure, y'all. And I'm so honored that she asked me to be here!
******
Thank you, Amanda, for stopping by to share on my blog today!
Please, friends, swing by her blogs and show her some love!
And don't forget to check out my giveaway going on over
here
!