chronicles of the first time i ever tried....
creating a hand made journal
!!
Ok, so apparently I haven't been trying enough new stuff because my last "Friday Firsts"
post
was in August!! Clearly this is one area of my life where I need to create more margin!
Last month, I saw a post on one of my fave blogs to read! April at Gingerbread had an awesome idea for her blog anniversary. She decided to do a journal exchange. You can read about that
here
.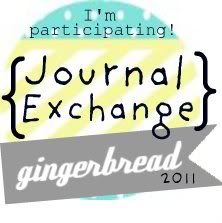 I love journals too, so I hopped on the Journal Exchange bandwagon and was later given my journal swap partner, Amy, who blogs over at

Flip Flop Follies

!
Here's how it went down:
Start with a composition book, scissors, glue gun, ribbon, scrapbook papers and any other embellishments you might want to use.
Measure and trim any papers you will be using to cover the composition book.
I used layered papers for the cover, so assemble those before gluing onto the composition book cover - I covered both the front and back of the book with these papers.
For a bookmarker, I used a long piece of thin ribbon. I hot glued down the ribbon running the length of the book and left an extra length of ribbon outside the book (the extra length was slightly longer than the piece that was glued down).
I wrapped a long piece of ribbon around the book, leaving extra length in order to have a ribbon to tie the book together when it is closed. I glued the ribbon in place with a hot glue gun.
I glued down the front and back covers which I had previously measured and assembled. I finished the left edge of the page with a long thin scrapbook sticker in complementary colors. I thought that would create a nicer finish.
Next I glued down previously measured and trimmed papers on the inside covers of the book. Otherwise, the recipient would be looking at the metric conversion charts which were printed on the inside cover!
I finished off the front cover with some embellishments which I had from my scrapbooking supply collection.
And VOILA - the finished product!
People, this project is SO simple and inexpensive. It cost me $2.59 which was the cost of the composition book at CVS. I'm sure Staples or Wal Mart would have been cheaper, but I needed to get the book quickly so I could get started and get this out in the mail to Amy! I already had all of the ribbon, papers, stickers, and other embellishments from my scrapbooking supplies, so that part cost me nothing.
This was not a difficult project, nor was it very time consuming. It was a lot of fun to make and I plan on making some more as Christmas gifts!
Thank, April, for hosting such a fun exchange!!